Monday, September 11, 2006
Failure To Evolve
676 comments - Click for Blog
Well, here we are...the 5th anniversary of '9/11'. So much as happened in 5 years time, but what has been accomplished? There's more money being spent on the accoutrements of war, fewer dollars spent in area that might foster 'peace'...more people thinking we need to 'spread democracy', fewer civil liberties...more people believing in God, fewer people acting God-like. And more of the same on the way.
Space Shuttle
Discovery
launched and landed and
Atlantis
has launched and docked with
ISS
. But we know that the Shuttle program is soon to end. There is more and more news of the new effort to put man back on the Moon, and to venture to Mars...Project Orion. And while the project has the potential to be, in the words of Capt. Eugene Cernan,
"a giant leap forward"
and while I would love to see this come to fruition...I have a few doubts and fears.
Firstly, our good friend and fellow 'Shoddie' Robert, may your beard grow ever longer, often exhorts any who will listen to "Hijack that Starship!". Now this has a special meaning to us, but my fear is that the 'wrong people' have the ways and means to do just that. I have long felt, and we here have discussed, that there is a potential for other 'program needs' to develop, needs that will require increased 'security' in space, to protect our assets, or some such ruse. My fear is that those needs will somehow be aligned, like our needs in the 'War on Terrorism" were, by those writers and proponents of
PNAC's "Rebuilding America's Defenses: Strategy, Forces and Resources for a New Century"
. Part of their stated aim to ensure a
Pax Americana
is the need to develop and deploy a global missile defense system and to develop a strategic dominance of space. Inasmuch as the funds and resources for conducting the "War on Terror" in Afghanistan and against bin Laden were 'hijacked' for use in the 'un-War on Terror' in Iraq, I greatly fear that Project Orion's funds and resources will be 'hijacked' by these same forces, to achieve yet another of their insidious purposes. Since the company involved with building the Project Orion fleet (e.g. Lockheed-Martin) is also deeply involved in producing, for the highest dollar, the above-mentioned "accoutrements of war", how much easier for the hijacking to occur?
Secondly, to make way for the Orion Project a vast number of other programs are being effected adversely. According to one more scientifically cogent members, the following changes have been made:
Dawn: Cancelled. (again)
* SOFIA (Stratospheric Observatory for Infrared Astronomy): Cancelled.
* Mission to Europa: Cancelled.
* Jupiter Icy Moon Orbiter (JIMO): Cancelled
* Terrestrial Planet Finder: Cancelled.
* SIM Planet Quest: Delayed.
* Mars Sample Return Mission: Delayed Indefinitely.
* Two Mars Scout missions planned for after 2011 were removed from the four year planning budget.
* Explorer Program: cut drastically with the earliest launch coming in 2014.
* Beyond Einstein: delayed indefinitely.
* Landsat: delay in launch of satellite to replace and upgrade Landsat 7, launched in 1999.
* Earth Observing System: If cut, satellites such as Aqua (2002) and Terra (1999) would not be replaced when they fail.
* Global Precipitation Measuring Mission: The launch pushed back to 2012.
* Deep Space Climate Observatory: cancelled.
* National Polar-Orbiting Operational Environmental Satellite System: Under review.
* Keck Observatory upgrade: cancelled

According to Capt. Cernan's statement (see link above), he optimistically projects a great many benefits in education and research as a result of the Orion Project. However, the scope of the cancellations above must certainly weigh the scales of scientific justice heavily on the negative side. And not only the scope of the science and subject matter impacted, but by the sheer number of educational organizations that will lose the funding, if not their
raison de etre
. This could have the devastating effect of putting the reliance of developing our future scientists into a limited number of universities...effectively putting all our eggs in one basket...AND limiting opportunities for deserving minds and talent. In my thinking, 'diversity'...of programs, sciences and facilities performing this work...is the key to our future success or, my fear, of the future demise of this country's scientific capability and will.
Surprisingly, what has inspired this train of thought was yet another book that I recently read. The author is Stephen Baxter, the book is
Evolution
, which this Amazon reviewer (see link) characterizes as the novelization of millions of years of evolution. Aptly put. I found it a fascinating read, a real page turner...and thoroughly depressing. For at the end we come face to face with the end of not only the lives of all primates, but of all life on earth itself. Most sobering...and it made me mad...damned mad!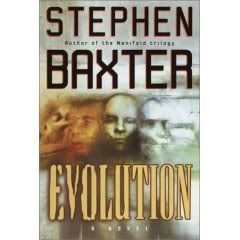 We can speculate all we want about the universe possibly being filled with life. I believe that it is. But the fact is, we're the only 'intelligent life' we've met up with. And I think we owe it to the species, not only
homo sapiens
but all life on Earth, to build a lifeboat, to find a habitable or terraformable planet and to start an outpost...lots of them! And that requires a stronger national commitment to science and exploration. It requires more than the "one percent of the national budget" that Capt. Cernan says Americans currently accept as enough money for NASA. It requires humanity to 'evolve' a little and cease the constant warring over ideology and religion and property that has been the hallmark of 'civilization' since Catal Huyuk, if not further back into the depths of time.
One day in the future, be it due to an asteroid, cosmic dust cloud or the death throes of our Sun, Earth will cease to sustain life. This is inevitable. We have the knowledge, we have the resources...we either lack the will, or is it that some other forces are focusing our energy and resources towards what can prove to be a finite, meaningless existence on Earth.
If this goes on, our failure to reach for the stars will result in the ultimate failure to evolve.