Monday, April 02, 2007
The Warming Debate
195 comments - Click for Blog
by Ericswan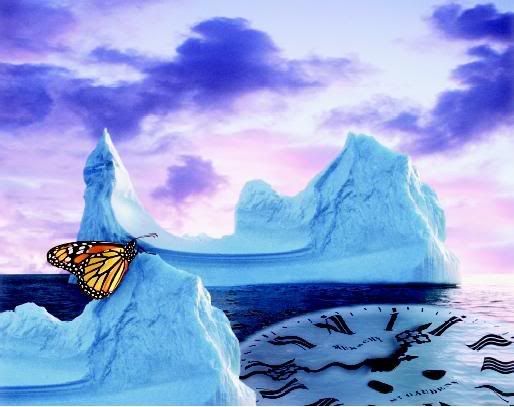 It's a mystery wrapped in an enigma. The political system that expresses itself as a capitalist democracy spends all of our money on communist enterprise. The Military is an easy example for demonstration purposes. Look at how they live and work. Look at their chain of command. It's a communist enterprise top to bottom. The blood, sweat and tears of the producing blue collar worker pissed up a rope by governments intent on having a standing army at the ready to defend their cronyism, corruption and commercial interests. A hardened and brain dead mass of dependents waiting in the wings to do their bidding, foreign and domestic.
There is a new crime just over the horizon with a new class of criminal...called 'blue collar global warmers'. Be prepared to be incarcerated in work prisons for using electricity, your computer, your car or truck outside of proscribed uses. Silence the critics and save the planet and call it Patriot Act, Section 666.
It has been the modus operandi to tell a whopper of a lie that no one could unravel fast enough to save our souls. Global warming is that whopper of a lie. Global warming may be happening. We see the effects on the news daily but is it the domestic use of automobiles or electricity from coal fired generation or greenhouse gases from landfills, agriculture and urban renewal or is it a solar system wide event?
Would the millions of tons of chemtrail metals being dumped into the atmosphere be aiding and abetting global warming? What about the fuel these jets are burning just to place these toxic metals over our heads, in our air, earth, and water? Would the recent BASF/Monsanto consortium be devising control of all plant foods that can grow in a chemtrail metal soaked earth and water?
If the government could induce weather patterns, would they use it to benefit mankind or would they use it as a weapon? Would that weapon be used to benefit their friends or injure their opponents? Would they manipulate weather to manipulate the population into accepting the rationing of food, energy, or iminent domain? Phizer recently talked the government of Connecticut into taking land from a family that had held it for generations and turning it over to their corporate headquarters. If Monsanto/BASF control all plant foods that survive chemtrail metals, will Phizer control all drugs to treat humans?
We, apparently, will not be debating Chemtrail's efficacy any time soon. We, apparently, will not be contributing to the solution of global warming either. Perhaps we're not worthy. Will we dump the problem into the hands of our corporate and government leaders and allow them to be the ones to show us the 'promised land'?
Good luck with that!
Labels: Chemtrails, Global Warming